Weekly Roundup – 1 April, 2022
Microsoft's DirectStorage makes NVMe SSDs nearly 70% faster compared to Win32
Source:
Neowin
The DirectStorage API SDK finally hit Windows recently which means game developers can now begin using the technology for implementation in PC games. Following that, today we have the first demo of a game using DirectStorage, shown off at the Game Developers Conference (GDC) 2022 event.
77% of Kubernetes Users Don't Have Protections for Data Loss
Source: Enterprise Storage Forum
A new survey shows that the majority of companies are "underprepared" for threats against their Kubernetes environments.

The survey by the data storage company Veritas is on how companies are protecting their open-source Kubernetes, according to the company this month.
Kioxia Develops 24G SAS SSD
Source: Enterprise Storage Forum
he memory hardware maker Kioxia America is introducing a new group of SAS SSDs.

Kioxia's PM7 Series of enterprise 24G SAS SSDs is available for customer evaluation, according to the company this month.
Samsung and Western Digital Form Zoned (Block) Storage Collaboration
Samsung Electronics and Western Digital today announced a collaboration around zoned storage, which is a form of block storage, focused on data placement, processing and fabrics (D2PF) technologies. Western Digital has said zone storage is designed for workloads with increasingly voluminous and complex data management needs, creating "block storage devices that have their address space divided into zones… (that) impose unconventional writing rules: zones can only be written sequentially and starting from the beginning of the zone."
Seagate launches 10-platter 20TB video surveillance disk drive
Seagate has added a 10th platter to its SkyHawk product line, resulting in a 20TB video surveillance drive.

Update: Exos and IronWold Pro 20TB drives are 10-platter designs. 30 March 2022.

The prior SkyHawk generation, announced in October 2020, maxed out at 18TB and had a nine-platter configuration inside their helium-filled enclosures, using conventional (perpendicular) magnetic recording (CMR). Now Seagate has squeezed an extra platter in to reach 20TB without recourse to any energy-assisted magnetic recording such as HAMR.
When SSDs began to replace rotating HDDs across industries in the early 2000s, one of the touted side benefits was that SSDs used less power – and therefore generated less heat. At the time, heat management was virtually a non-issue for the latest drives.

SSDs have come a long way since then. They've evolved from ere MB/s of performance to 5GB/s and up, and early looks at Gen5 SSDs are reporting 10 to 12 GB/s and beyond. With greater performance and speed comes greater heat gen. Because today's M.2 NVMe SSDs can overheat quickly, heat management is a necessity.
DDN Storage Appliance "Doubles Performance" for Nvidia DGX AI Solutions and Speeds Up Analytics and ML in Cloud "by 100%"
DDN (DataDirect Networks, Inc.) announced its next-gen flash and hybrid data platforms for Nvidia DGX POD and DGX SuperPOD AI, analytics and deep learning computing infrastructure.

Powering thousands of Nvidia DGX systems, including Selene and Cambridge-1 DGX SuperPOD systems, the company offers a range of optimized AI data storage solutions for applications such as autonomous vehicles, natural language processing, financial modeling, drug discovery, academic research, and government security.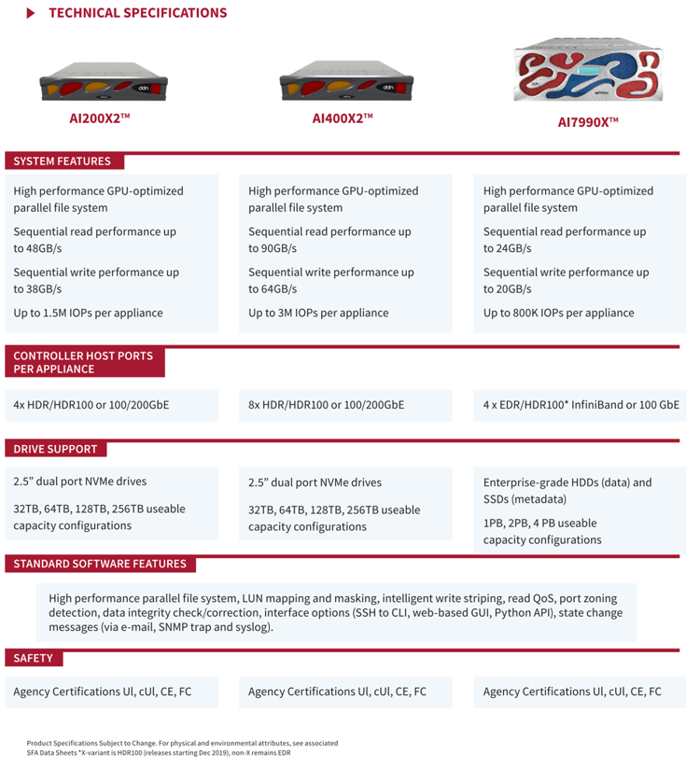 The data storage manufacturer Digistor is introducing its latest line of solid-state drives (SSDs).

Digistor released its C Series self-encrypting SSDs for securing data at rest, according to the company this month.

The series is intended to protect sensitive data on user endpoint devices in zero-trust environments, including military and critical infrastructure use cases.