Weekly Roundup – 25 February, 2022
Ubuntu Touch OTA-22 Rolling Out Now with Initial FM Radio Support, WebGL Support
Source:
9to5Linux
The UBports Foundation released today the OTA-22 software update for their open-source and free Ubuntu Touch mobile operating system for all supported Linux smartphones and tablets.

Ubuntu Touch OTA-22 is here one and a half months after the OTA-21 update to add yet another layer of improvements, as well as to pave the way for new, upcoming features, such as FM Radio support to allow for real analog radio listening on supported devices. For now, only the daemon implementation landed in the OTA-22 release, while an FM Radio application should be available in the app store in the next few weeks.
OSNexus QuantaStor Virtual Storage Appliances for IBM Cloud Gen 2 Data Centers
Source: StorageNewsletter
OSNexus Corp. announced that its QuantaStor SDS platform will have Virtual Storage Appliances (VSAs) available in IBM's Gen 2 Data Centers.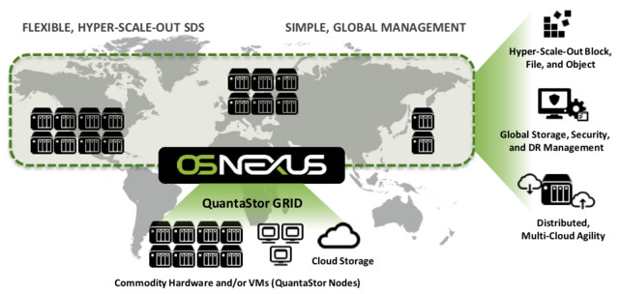 Contamination incident affects 'at least 6.5 exabytes' of SSD memory chips
Source: IT World Canada
Western Digital and Kioxia announced a contamination incident at their NAND flash memory production sites in Yokkaichi and Kitakami, Japan.
FreeDOS 1.3 Released
Source: ibiblio.org and freedos.org
The new FreeDOS 1.3 is now available for download! This contains a bunch of great new features and improvements since the 1.2 release, including: new FreeCOM 0.85a, new Kernel 2043 and an 8086 version with FAT32 support, floppy Edition now uses compression and requires about half as many diskettes, the return of networking, some new programs and games, many many many package updates, some updates and improvements to NLS, improved install process, especially with the MBR, some support to automatically set the COUNTRY.SYS information, improved CD initialization for the boot media and installed system, .. and much, much more!
KDE Plasma 5.24.2 LTS Released with More Fixes for Plasma Wayland and Overview Effect
Source: 9to5Linux
The KDE Project released today KDE Plasma 5.24.2 as the second maintenance update to the latest and greatest KDE Plasma 5.24 LTS desktop environment series to address more issues and improve the overall stability and reliability.
Is Huawei already testing HarmonyOS 3.0 for smartphones?
Source: Huawei Central
Huawei has started testing a number of new features for existing HarmonyOS 2.0 powered devices, so the company has already begun testing HarmonyOS 3.0 software ahead of the public rollout? Let's find out.

The answer is no, Huawei has not started testing HarmonyOS 3.0.
OpenSSH 8.9 released
Source: lwn.net
OpenSSH 8.9 has just been released. It will be available from the
mirrors listed at https://www.openssh.com/ shortly.

OpenSSH is a 100% complete SSH protocol 2.0 implementation and
includes sftp client and server support.
Nvidia plus Excelero equals acquisition – maybe
Source: Blocks & Files
We have heard that Nvidia could be buying Excelero, an NVMe storage software startup – and Excelero did not deny it.

Nvidia is the GPU server giant that just withdrew its attempt to buy Arm. Excelero makes and sells NVMesh software which provides a virtual, distributed flash array supporting converged (in-server SSDs) and disaggregated (all-flash array) architectures.